____________________


Housing



September 2010 Housing Starts Lower in Kitchener


TORONTO - Canada Mortgage and Housing Corporation (CMHC) released September preliminary housing starts data for the Kitchener-Cambridge-Waterloo Census Metropolitan Area(1) (CMA) today. Construction began on 145 homes, down from the 160 units started in the same month last year.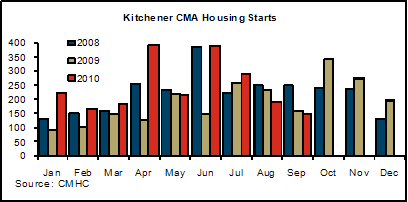 Foundations were laid for 88 detached homes in September, up from the 81 units started in September 2009. Although semi-detached starts were higher, lower townhome starts, as well as the absence of apartment starts, contributed to the lower housing starts in September. Only the City of Kitchener and the Township of Woolwich had higher starts. In the first three quarters of 2010, construction began on 2,191 homes, up 47 per cent from the 1,487 units started in the same period of 2009.
Advertisement
"The flurry of construction activity that occurred in the first half of 2010 has waned in the last two months, but total starts for 2010 will exceed the level recorded in 2009," said Erica McLerie, Senior Market Analyst for the Kitchener CMA. "With an improving local economy and increased migration, there will be demand for new homes," added McLerie.

As Canada's national housing agency, CMHC draws on more than 60 years of experience to help Canadians access a variety of quality, environmentally sustainable and affordable homes. CMHC also provides reliable, impartial and up-to-date housing market reports, analysis and knowledge to support and assist consumers and the housing industry in making vital decisions.

"Housing Starts - Kitchener CMA"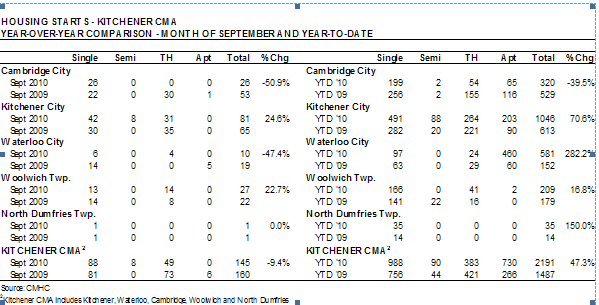 Submit press release to
pressrelease@exchangemagazine.com
- Editor Jon Rohr - Content published on this site represents the opinion of the individual/organization and/or source provider of the Content. ExchangeMagazine.com is non-partisan, online journal.
Privacy Policy
. Copyright of Exchange produced editorial is the copyright of Exchange Business Communications Inc. 2010/*.*. Additional editorials, comments and releases are copyright of respective source(s) and/or institutions or organizations.