As a successful serial entrepreneur, venture capitalist and philanthropist, Jim Estill likes to think outside the box. Although in a recent situation, thinking "inside the box" led to an unexpected solution.

Today, Estill is owner and CEO of Danby Appliances in Guelph. The company recently had a problem with one of its products – a wine cooler. The problem was, too many of the coolers didn't work; the compressors failed. Which meant they were, in essence, a box with a front window.

"I had intended my retirement to be as an angel investor, board member, and mentor… a way to wind down. But… there's something more about having a company – it gives you a platform."
At Danby, innovative problem-solving seems to be Job One. The failed coolers were re-purposed as herb growers, with grow lights installed. The new product is a hit. "Now," says Estill, morphing into a Danby pitch-man, "You can have fresh basil 365 days a year."
And speaking of new products, this company that sells household appliances is now ready to manufacture a product to meet a brand new demand – an appliance for people who want to grow their own marijuana, once that recreational drug is legalized. Unlike the herb grower – the converted wine cooler with a glass front – the marijuana appliance will have a solid door, so it looks like a freezer. Customers may want to be discreet about their pastimes, explains Estill.

These two products are not the most important element of Estill's business, but they are excellent examples of how the man thinks. Everything is on the table, nothing is taken for granted, and any opportunity is worth consideration.

A few months ago, he took the idea for a new opportunity to Anne Toner-Fung of Innovation Guelph: a Reverse Collision Day. Estill's concept is to invert the idea of Collision Days – where would-be entrepreneurs pitch ideas to existing businesses – and instead, invite the would-be entrepreneurs to come to the business and figure out opportunities that exist within the corporate entity, chances to create synergies with the company.

The first Reverse Collision Day has resulting in Estill being "in discussion" with a couple of attendees who think they can bring synergistic solutions to Danby; and Innovation Guelph has held one more Reverse Collision Day, and plans more – including a second at Danby. Estill also wants to export the idea, and is considering working with entities in Waterloo Region to make that happen.

He won't assess the success of the concept, as yet. He's optimistic, but immediately adds that "the nature of business and start-ups is that success is measured in a decade. It's too early to have success. But I do like the idea, and I think we can do even better when I replicate it."


For Estill, the key is for attendees to come in without pre-conceived ideas: don't pitch, just watch and listen and learn what opportunities there may be. He points out that "lots of businesses are started like that," and he points to a powerful example: a man who worked at the company now known as Danby spotted an opportunity to manufacture a produce in his garage that would save his employer money. That man was named Frank Hasenfratz; the company that grew from his garage is Linamar.

As a man who has invested as a venture capitalist in at least 150 start-ups – and has cashed out on about 25 of them – Estill has learned that the businesses that seem sexy or make headlines aren't necessarily the businesses slated for success. He's a living example – he was with RIM (now Blackberry) from 1997-2010, surely one of the world's most headline-drawing company at the time, but now he is entirely happy owning and running an appliance business.

Estill's involvement in bringing Syrian refugees to Canada.
"I do use [my platform] for philanthropy"


"The most money is made in boring businesses," he told Exchange. He adds that almost every successful business in Guelph falls into that category.
Before becoming CEO of Danby, in 2015, Estill was heading into semi-retirement. "I had intended my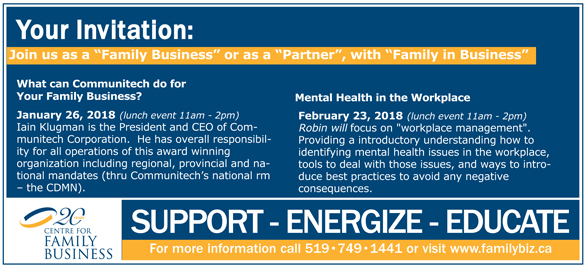 retirement to be as an angel investor, board member, and mentor… a way to wind down. But I learned that being an influencer didn't give me the juice of owning an actual business. There's something more about having a company – it gives you a platform."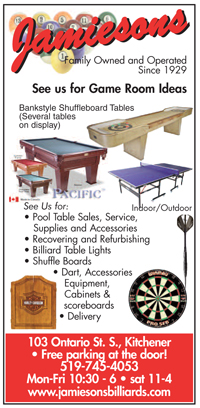 There is no better example of that "platform" than Estill's involvement in bringing Syrian refugees to Canada. "I do use it for philanthropy – I wouldn't have been as successful if I didn't have the company… I sort of became the spokesperson for refugee issues." And in this case, success can be identified pretty quickly – to date, Estill and the individuals and organizations he recruited, have brought 56 refugee families to Canada. Many of them have jobs at Danby.

Estill says that his ongoing business focus will be on Danby. He explains, wryly, that "I am trying hard not to do angel investment," simply because his experience proves that returns on an angel investment only come after about 14 years. "I did the math," says the man who turned 60 in 2017. "And I've done 150 investments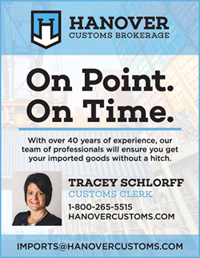 and 25 exits, so I am wining on one in six."

At Danby, he says, his job does not involve making decisions. "The larger, the company," he says, "the more the leader's role is to concentrate on the corporate culture," to create decision makers. Then, "it's those people's job to make decisions."